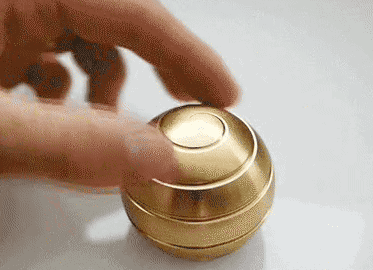 【What is it】 Made of aluminum metal and machined by precision CNC. It has a helix groove milled the whole surface. Every globe has a rotating metal base equipped with high-quality steel bearing.
【How does it work】 Designed to spin on desk floor or any flat surface. Simply rotate it by hand to creates an almost magical effect that looks like continuously flowing helix would merge into a surface of tabletop. It spins silently so you won't be bothering anyone around.
【What can it do for you】 When revolving it creates a full body optical illusion. It's mainly suitable for creators, makers, thinkers, and anyone who wants to release their inner creativity and imagination. Keep focus, relieve stress,eliminate anxiety , or simply relax during working hours.
【Want to surprise someone】 Hypnotic optical illusion is a unique way to bring excitement to anyone. And it is not only a dynamic desk toy, but also an exquisite desktop decoration. There is no doubt that it's an ideal Thanksgiving gift, Christmas gift , birthday gift or Other present.

A truly great and original present that creates a bit of magic every time you interact with it. You'll instantly notice minutely milled lines and smooth surface texture upon touching globe for the first time! Each unit is designed with attention to the smallest detail and built to last a lifetime.
SATISFACTION GUARANTEED - EASY REFUNDS
If for whatever reason, you decide you are not satisfied, you can easily and quickly contact our helpful customer support to get an easy refund. We just ask that you at least give the product a 2 week try and we'll refund you, no questions!
HIGH DEMAND - ORDER ARRIVES IN 2-4 WEEKS
Due to extremely high demand, orders take up to 2-4 weeks to ship and arrive. Please be patient, we are doing our very best to fulfill every order that we receive!